Getting to the Institute
We are located on the 5th floor of the Boyd Graduate Studies Research Center, the same building that houses the University of Georgia Science Library. Walk-in visitors should go to the front desk in Rm 516.
Parking is available in the parking deck of the Georgia Center for Continuing Education, located on Green Street at 1197 S. Lumpkin Street in Athens, Georgia. The institute is located only a few hundred feet northeast of the Georgia Center.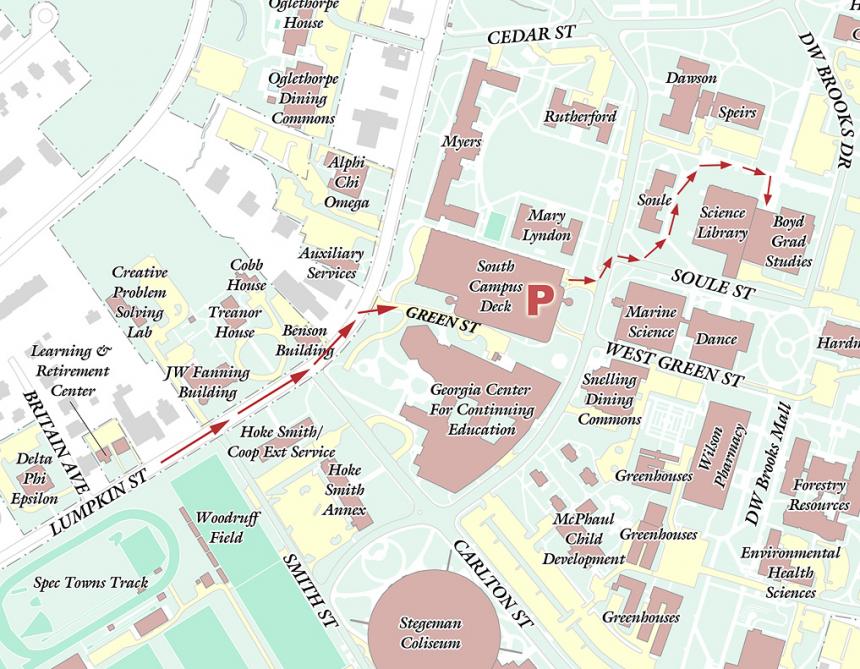 For questions about the Institute or the application process, or for comments/suggestions regarding the design of this website, please contact: 
Institute for Artificial Intelligence 
aiuga@uga.edu
706-542-0358
516 Boyd, GSRC, IAI
Current graduate students needing to be advised or other information about the graduate program, please contact our Graduate Coordinator: 
Dr. Neal Outland
Neal.Outland@uga.edu
706-542-2174
For information regarding the undergraduate program in Cognitive Science, please contact our Undergraduate Coordinator: 
Dr. Sarah Wright
sawright@uga.edu
706-583-0530 
101C Peabody Hall
Philosophy Department