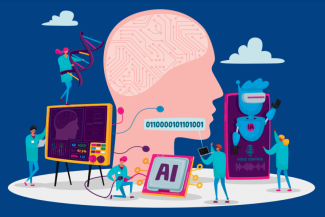 Tate Center Reception Hall
AI Everywhere (All at Once)
Please join us November 17, 2022 from 2:00 - 7:00 pm for 2022 AI Research Day, sponsored by the Institute for Artificial Intelligence. The theme of the day is AI Everywhere (All at Once). The day will consist of a keynote address, lightning presentations by members of the UGA community engaged in AI research, a discussion panel, and research posters describing the work of UGA students. We will have light refreshments throughout the event.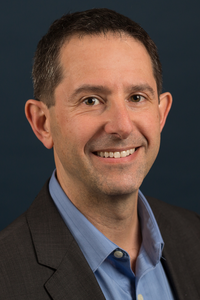 Speaker: Peter Stone.  Director of Texas Robotics, UT Austin; Associate Chair of the Department of Computer Science, UT Austin; Truchard Foundation Chair in Computer Science, UT Austin; Executive Director, Sony AI America
Time: 2:15 PM
Title: "Outracing Champion Gran Turismo Drivers with Deep Reinforcement Learning"
Abstract:
Many potential applications of artificial intelligence involve making real-time decisions in physical systems while interacting with humans. Automobile racing represents an extreme example of these conditions; drivers must execute complex tactical manoeuvres to pass or block opponents while operating their vehicles at their traction limits. Racing simulations, such as the PlayStation game Gran Turismo, faithfully reproduce the non-linear control challenges of real race cars while also encapsulating the complex multi-agent interactions. Here we describe how we trained agents for Gran Turismo that can compete with the world's best e-sports drivers. We combine state-of-the-art, model-free, deep reinforcement learning algorithms with mixed-scenario training to learn an integrated control policy that combines exceptional speed with impressive tactics. In addition, we construct a reward function that enables the agent to be competitive while adhering to racing's important, but under-specified, sportsmanship rules. We demonstrate the capabilities of our agent, Gran Turismo Sophy, by winning a head-to-head competition against four of the world's best Gran Turismo drivers. By describing how we trained championship-level racers, we demonstrate the possibilities and challenges of using these techniques to control complex dynamical systems in domains where agents must respect imprecisely defined human norms.
Lightning Talks (Session I)
Time: 3:15 PM
Speakers: 
Panel Discussion 
Time: 4:00 PM
Topic: "How will AI change your field, for better or worse?"
Moderator: 
Panelists:
Lightning Talks (Session II)
Time: 5:00 PM
Speakers: 
Jeremy Davis (Assistant Professor, Department of Philosophy) 
Sergio Bernardes  (Associate Director, Center for Geospatial Research; Director, Disruptive Geospatial Technologies Lab) 
Eric Miller (Small Satellite Research Lab) 
John Gibbs (Associate Professor, Department of Theatre and Film Studies) 
Research Poster Reception
Time: ~5:40
Includes awards for best posters
Organizing Committee:
The AI Institute would like to thank the following for organizing the research day. 
Getting There